TRADING SIGNALS PRO
It does not matter whether you are a professional or a novice trader. Intra-Day Forex ideas by Intomillion are suitable for all types of traders. Our Signals is an outstanding product, fully automatic and available 24 hours a day from Monday till Friday. This strategy is the result of a long time of hard working. Table with Trading Signals makes it easy for you, as easy as 1, 2, 3. Signals are statistically winning strategy and constantly being improved. Don't trade alone and get to know the secrets of successful trading. Become a part of the unique project, use signals in your private practice and improve your performance. Because Success unites!
Pro version includes: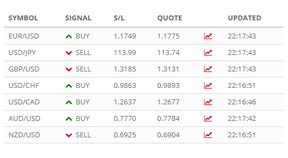 28 currency pairs
No ads
Unlimited access
Instant updates
view Demo
(Basic Version)
Click subscription button and make a payment. After the payment you will receive a unique link via email. You will be able to use that link to complete the registration. Paymets processed by PayPal.

Special offer
First 100 subscribers only