The British Pound has been sold heavily in this Monday (September 8), the market opening price 1.6198. GBP/USD closed in NY Friday at 1.6327 (GAP 129 pips).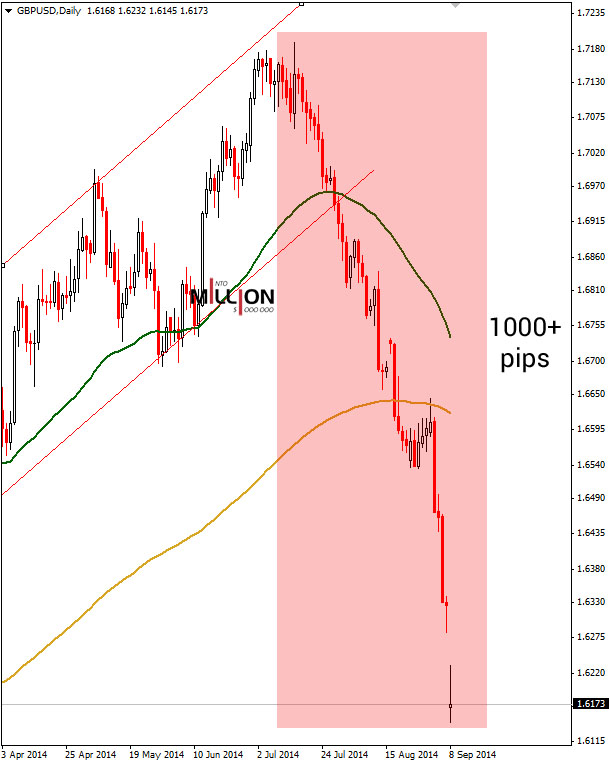 A new opinion poll has put Scotland's pro-independence camp ahead for the first time in the campaign, just 11 days before the referendum on splitting from Britain. The YouGov/Sunday Timespoll gave the "Yes" camp 51 per cent support compared to the "No" camp's 49 per cent, excluding undecided voters.
What will happen to the value of the pound sterling should the Scottish nationalist's succeed in their bid for separation from the UK? Sterling risks losing value in the event of a Yes vote.
The UK current account balance would deteriorate because of the loss of oil exports, which would be only partly offset by a current account surplus with Scotland.
Bank of America has told in June, that the continuing UK's debt ratio is likely to increase, at least in the short term, under certain scenarios. Such an increase could lead to higher fiscal risks, given the already high debt-to-GDP ratio, and to a tighter fiscal policy. Both could lead to a looser monetary policy than otherwise. A slightly smaller fiscal deficit than otherwise would only offset part of this impact.
At stake in the Scottish independence referendum on September 18 is the future of the stability of a pound sterling, that is still ranked by the International Monetary Fund as the world's third most important reserve money after the dollar and the euro.
Conclusion
That said, exchange rate markets have bought the rumor yet. The facts will be 18 September, and the effect of the results will be very swift. Of course, if Scotland votes No then pound sterling valuations will fly up, at least to 1.68. After all, even if it is a reversal of a long-term trend, the short squeeze correction has not been canceled. So let's see.