I was going through browser's Favorites, when I found one exciting article "Investing in Indonesia: Another Asian 'Tiger' Roars Ahead" by Tony D'Altoria published at the end of November 2010 (source: investmentu.com). Someone might say this article is too old for being investment's info – it's been in internet for more then 1,5 years and is a history by now. However, it is still very topical issue. The article's author managed to put very clear and well-reasoned perspectives of the Indonesian economics. I must admit, I've shared the authors opinion back in the day. Then it was still, but Indonesia being discussed again. Perspectives have even grown. Facts talk for themselves. So, what do we have on this moment?
Indonesia, which used to lagged behind emerging markets, plans to grow on par with China and India. IMF and World Bank predict Indonesian economic growth up to 7-7,4% by 2015. And this growth is stable, natural and very insensitive to externalities – which is rare today. How does it work?
The fact is, economic growth driver in Indonesia is not expensive oil nor low-interest credit. It is expansion in consumption – one of the most powerful development factors in economy. Indonesia is the fourth most populated county in the world (248 millions) and the largest economy in Southeast Asia. Indonesian people are ready to work non-stop for better life. In 2011 nominal GDP per capita reached $3400 (gross domestic product – gross revenue per one inhabitant $3400) ensures years of sustainable development.
The reason for this strength is hidden in GDP structure – 57% of which is based on home consumption which connected to the growth of the middle class. Export (gas, coal, commodities) is orientated on healthy economies – China, India, Singapore and is more than 25% by now.
The 1997 crisis became the starting point of political and economic reforms. Back then, country's economy shrinkage was on 13%, inflation has grown to 59% and rupee rate has crashed bringing down Suharto president's regime. As a result, today we gain World Bank's 'Doing Business 2012' ranked Indonesia higher then India. And that's not a limit says a lot of analytics around the world.
What kind of opportunities Indonesia opens to investors?
Currency
Trust to Indonesian Rupee (IDR) was undermined by Asian financial crisis in 1997, and economic crisis 2008-2009 has weakened the currency's figure – primary and commodity resources exporters. Prices of palm oil and rubber dropped, bringing down rupee, which reached it's minimum 12 658 to the dollar. Indonesian Bank used $7 billion out of $57 billion reserves for currency's stabilization. Today, Rupee is one of the cheapest currencies to US dollar – 1dollar=9510 rupees. Fostering the rupee has begun in March 2009. By the September pair USD/IDR went back to it's usual value – about 9000 rupees per dollar.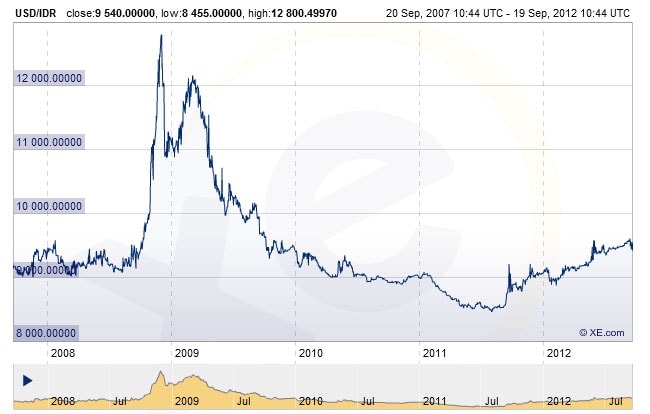 Nomura analytics predict rupee further appreciation against USD and expect 7800 rupees per dollar rate by the end on 2012 and 7400 by the end of 2014. Credit Suisse expects appreciation to 8700 rupees by the end of this year. Citi synopsis – 9100 rupee per USD, all most the same as current value.
Deposits in Indonesian banks are considered attractive investments. Official BL rate on July 2012 – 5,57%, CPI Inflation 4,3%, source Bank Indonesia. The yield will grow if you plus the national currency growth. You can use Citibank Indonesia, pluss you can save on transactions if you already have Citi account (in your country) or local banks BCA or Mandrili. One year deposit rates – 5-5,5% same as inflation value.
It is worth mentioning, opening deposit in Indonesian bank is easy, but you need KITAS – longterm visa, which gives you a work permit. You should find a company which will sponsor you, i.e. employ you. It is easy to get this visa at relatively low expense.
Stocks
Main stocks rate – Jakarta Composite Index – has grown by 192% in last tree years, leaving behind BRIC countries rates. The potential is still high. To let you know: Indonesian stock exchange takes 3rd place in South-East Asia on trading companies capitalization upper $400 billion. 'On P/E market trades lower average level in last 5 years' – says Johan Sidik, BNP Paribas Investment Partners investment specialist. Corporate profits went up 20% in last year. So, what to buy?

Analytics advise to invest in coal companies (Bumi Resources, Adaro Energy, Tambang Batubara Bukit Asam Persero), rural economy (Asta Agro, Lestari, London Sumatra Indonesia), real estate (Bumi Serpong Damai) and finances (Bank Rakyat Indonesia Persero).
In next five years time, growth of coal demand from China and India will pass ahead of Indonesia, Australia and South Africa supply. Furthermore, home demand will grow. Rubber prices (product of caoutchouc ), cacao, tea, coffee beans, palm oil still high. Reduce of export fares will also bring up this sector company's profits.
Worthy to note, there are no restriction on buying securities to foreign investors in Indonesia. For those investors who think choosing particular securities is too trouble, there are ETF opportunities with no restrictions. There are 2 fond on NYSE orientated on Indonesian market: Market Vectors Indonesia Index EDF (NYSE:IDX) i iShares MSCI Indonesia Investment Market Index Fund (NYSE: EIDO).
Real Estate
Real Estate value index has grown on 5% by Indonesian Bank 2011 data. Taking into account year inflation 5,4%, yield is negative. In spite of China, there was no rapid real estate growth in Indonesia. Today, 1sqr meter price (in 120m2 apartment in elite neighborhood in Jakarta) costs $1781, for comparison – $16 727 in Singapore.
According to Global Property Guide, apartment rent in Jakarta center – 12th world megapolis (28 million inhabitants) – bring to the owner 10-13% per year, which is the best rate in Asia. However, it is quite hard to buy real estate for foreigner, the rules are strict. You can buy real estate over $169 000. It is considered to be long-term rent, not tenure.
Buying real estate in Indonesia, you should be prepared to high extra expenses. It can get up to 45% of real estate cost, consisting of agent commission charges (ca 5%), stamp duty (5-10%), VAT (10%) and luxury tax (20%).