Not yet a pro on the Forex market? Are you tired of stress and endless information coming. You would like to invest, but not sure how to do it and where to invest? That makes you a perfect reader for this article. Today, I'm going to tell you about one interesting product, I've been monitoring since the start. Let's get it on!
On the 15th of October 2013 an innovational product has arrived on Forex market. FxPro company has introduced SuperTrader platform. Shortly, FxPro SuperTrader is a platform that brings investors and strategy leaders together. Everyone has something to bring to the table. Investors have the capital. Leaders have the expertise. So, FxPro provides the platform, trading infrastructure, performance data, and ensures that everything is fair and above board.
What is the difference?
The main difference from other Copy systems that Leaders undergo a stringent review process conducted by Company Business Development team. Even after being approved, each strategy is monitored for consistent performance and adherence to FxPro's risk management guidelines. Any strategy that fails to meet these guidelines, or to perform in a consistent way, will be removed from the platform. Take a look on the platforms print screen below.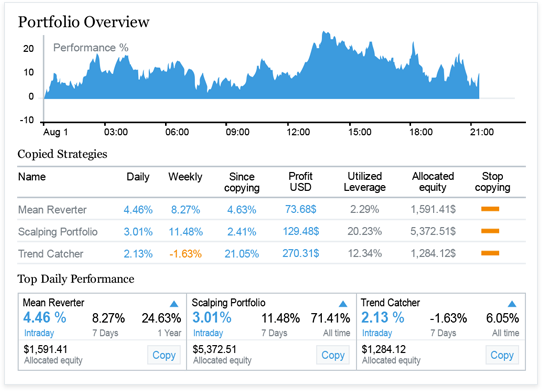 Full control
You determine the strategies you want to invest in
You decide on how much capital to invest
You select the risk management style
You can close an individual strategy, or your entire portfolio, whenever you want
By other words Leaders Make the Trades, You are in Control!
Conditions and performance
The minimum allocation per strategy is $500, there is no maximum amount
Only 5% profit commission. Have you seen less? I personally haven't
The project's performance impresses a lot, taking into account trading amounts of thousands of dollars. Below you will find some of the performance statistics that FxPro Supertrader has provided since its launch, along with January's most notable results (source FxPro):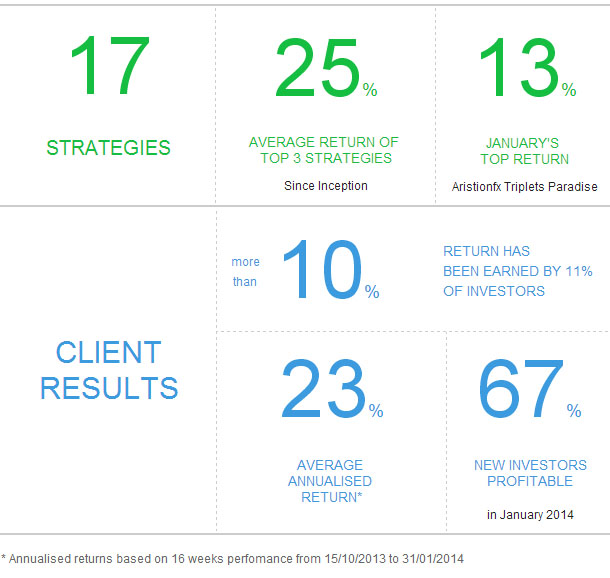 To start investing you need
Go to registration area and fill all required fields
Choose 1:200 or less in leverage (The maximum available leverage for SuperTrader accounts is fixed at 1:200)
Choose FxPro SuperTrader in the Account Type section (see screen below)

Choose USD in the Currency Base (SuperTrader accounts are currently only available in USD)
Then you will receive a confirmation email with further instructions. You will be asked to sign a Letter of Direction (don't be afraid, you can do it online). Your account will remain pending until these documents will be receive, reviewed and verified. After getting successful verification, you will get a login details and can start investing.

And start investing today!
Questions and examples
Question: When I start copying a strategy and a trade is opened, how many lots will be opened?
Answer: This is determined by the ratio between your allocated equity and the leader's equity.
Example: Let us assume that you allocated $5,000 to a strategy and you have selected a multiplier of 1. Also, let us assume that the equity of the leader of that particular strategy is $10,000. If the leader opens a trade of 3 lots, then you will open a trade with 1.5 lots. (5,000/10,000) * 1 (multiplier) * 3 (no. of lots of the leader) = 1.5.
Question: Can I close an individual position of a strategy that I'm copying?
Answer: Yes, you can. You can manually close each open position from the 'Open Positions' area of the 'Portfolio' page. You can also close individual positions from the 'Open Positions' area of each strategy's details page. Once closed they will be reflected on the trade history table.
Safety of Client Funds
A few details about warranties. This is always very important. All client funds deposited with FxPro are fully segregated from the company's funds and are kept in separate bank accounts. This ensures that those funds belonging to clients cannot be used for any other purpose.
FxPro is partnered with investment grade European banks that enjoy some of the highest ratings by Moody's, Fitch and S&P. Using global banks such as Barclays Bank PLC, Credit Suisse AG and Royal Bank of Scotland the firm ensures that funds deposited carry a low credit risk.
FxPro is authorised and regulated by the Financial Conduct Authority (previously FSA) and Cyprus Securities and Exchange Commission (CySEC). The company submits financial reports to FCA and CySEC on a regular basis including daily reconciliations of client funds.