Do you believe in magic? There are moments in life, when it's obvious, nothing can stop you from falling down. However, the chance always exists!
Let's start with some order. EUR/JPY, I was holding SELL position on this pair, buying with big lot and small targets for covering the loss, then again became short. I was mad by idea to sell the pair. But every my attempt to sell was unfortunate. I was seeing clear, that JPY was getting cheaper due expectations based on optimism about Liberal Democratic Party coming to power and further-coming monetary policy easing, including inflation up to 2%. That was before the elections. The election results came in line with expectations, but BOJ meeting on 19th of December increased their Asset Purchase Fund to 76 trillion yen, up from 66 trillion previously, not really. Talking about inflation, Prime Minister Abe still planning the meeting with BOJ officials, where the inflation plan going to be presented. We don't know for sure if the inflation plan is going to be accepted. According the bigger picture, there was some logic on SELL EUR/JPY, I wasn't following downs, my target was 105-106.5, giving me opportunity to gain profit out of this pair. There is a trend – long-term JPY easing and I admit it.
Somehow I'd chose to SELL EUR/JPY instead of USD/JPY. If I chose dollar – the result could be not that disappointing. On my opinion, EUR strengthening in the end of November and in the beginning of December was something phenomenal. This happened after Draghi decreased the Eurozone forecast on interest rates cut in next year… I don't mention euro strengthening against the dollar, there is QE3 and uncertainty on a Fiscal Cliff, I talking of crosses.
As a result, the pair I was dealing with came thought the most powerful 11% movement without significant correction, only in 8 weeks time. Intomillion fund deposit burned down on 112.40. I was short of only 11 pips (112.51 was a maximum) and account could have survived. Plus the rebate $1.10 came one day too late. It's all in the timing. You can see on print screen where S/L activated, in other words – stop deposit.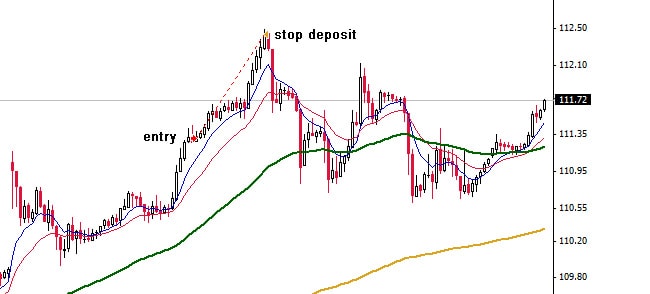 Intomillion loss was fixed on Balance/Equity $0,21 on 111.00 rate. Here comes the most interesting part of the story. I was already buried the project – see news on Facebook 'Game Over', when the miracle came. I don't have other words for it. We can do a lot when we have nothing to loose! Following my idea, I sell again EUR/JPY at 112.50 with a lot 0.01 having only 21 cent on the account. I had only 16 pips till stop deposit and the position was against the trend. Unbelievable thing happened – the pair went down and I fixed the profit of 80 cents. Later after a small correction and I opened SELL again, but with 0,02 lot and gained $2,29 in a few hours. That's 1090% in one day. The project is alive. 21 cent was the record minimum of the project.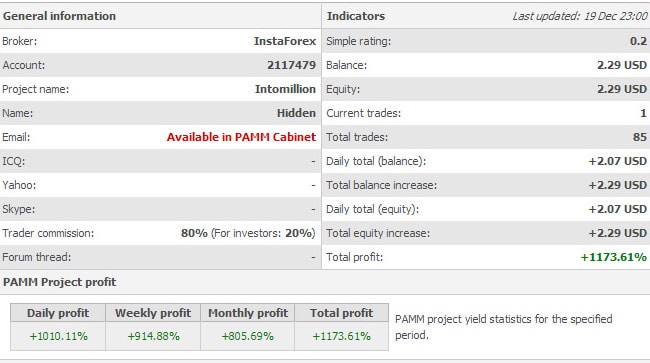 A few more successful deals let me close the week in profit. 3,03$ as a result against 1,83 last weeks Equity.
Sum up. Never give up!