Last week was a true roller-coaster. I published lately the post "21 Cent story or Christmas wonder", and wonders keep coming up. The beginning of 2013 was pretty successful both for me and my project. Major role again was taken by beauty I love to hate EUR/JPY. I have been selling, again and again, then I changed my mind and bought on my own risk and surprise. The price was 40 trades. No nerve cell was touched!
Likely, it's time to make a turn, meaning major correction on 500-600 points, light up the market. Take a look on W1 EUR/JPY chart below- we have come to a trendline of the descending channel.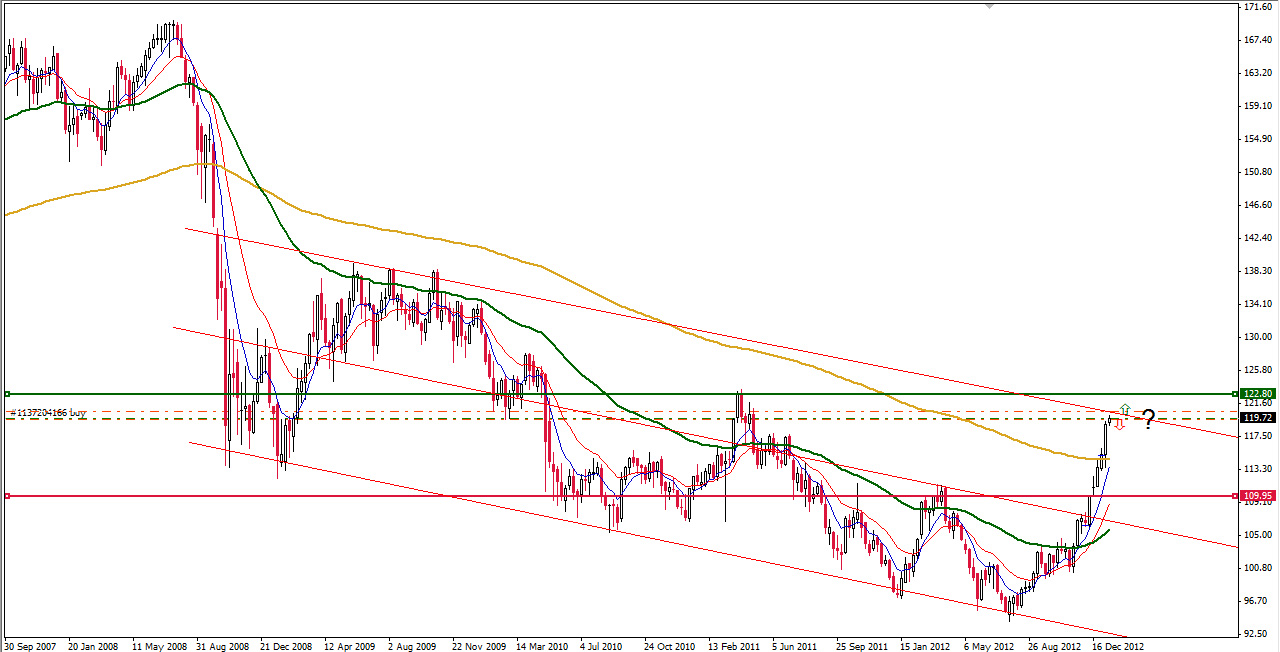 However, it is EMA 200 break through that concerns me much, maybe it is a false breakout? At this level, we can get up to 122. So, what? Remember 2008, when EUR was crashing down for 3 months time and 5500 points due the interest rates. The situation is different now, it is about currency printing. And monthly candle makes it even more terrifying by getting ready to go up on 400-500 pips.
Perhaps, the Japanese rank on strike again – ignoring debts the new government continues the old scenario. Currency printing. It is a negative move for Japanese actives. I don't know what to expect first – decrease of the rank and international investor outflow or 2 economy percent points up as was initially planned. Another planned target – the victory over deflation. I believe it is primitive, wrong, put for a show, anything but possible.
Let's get back to my project. During last 3 weeks time, Intomillion came to following results:
A fast leap 3 steps up ahead my trading plan – through 4, 8 and 16 dollars targets. Remember that only a few weeks ago, I had a little more than $2 on the trading account. Talking in other words, I got 3 steps closer to the million. I'm 9 months ahead the plan.
In 3 weeks time a record number of rebates received – more than $5. For those of you who don't know, I use InstaRebate service, which gives me 1.5 pips back from every trade made. I should admit, it is very cool and helps me a lot.
Total volume of executed trades has reached 1 classic lot. The Intomillion project is still only 4 months old. The turnover of $100 000 is incredible just by one dollar. I have not been expecting performance like that myself. By comparison, 10$ is a pip's price of classic lot.
Ups and downs. The road was not easy. The trajectory was from $3 to 10, then to 15, back to 11, up to 18, then 6 again, 20, down to 10, then 33 and finally $20. This is what I call a roller-coaster. Pretty nerve breaking, but the most important – Master your emotions first, then you will master your trading!