It's been a while since my last post. To be honest, I was pretty busy lately. Only trading signals table took a lot time. More than 3 weeks have passed since my "successful project start" and I count get enough of my 700% success as I got trapped again.
I'm tired of complains about the market, but in this case, I just freaked out. I got in wrong place, in the wrong moment of time. April 17th I have bought EUR/USD on 1.3193 according to all rules of technical analysis. It couldn't be a better signal to continue uprising trend. See the chart.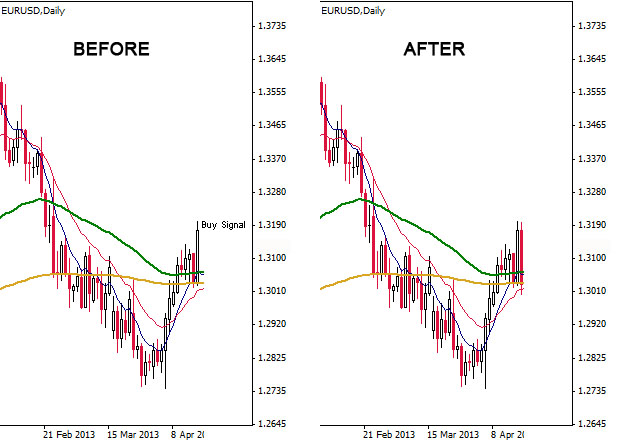 Here you can find candle analysis, EMA support and H1 trend, couldn't wish better. However, I lost 125 pips or 2,5$ per that day.
It is not the end of story. My own foolish though has trapped me. I got wrong trading terminals and eventually opened BUY GBP/USD with 0.03 lot size. Plus EUR/USD open position – that all was above my risk management, but I have decided not to close the deal. Result I fixed the loss and got 4$ left on the deposit. Useless to say, the next day rates got back to previous levels, but I was already out of the market.
Then a few unsuccessful deals on EUR/JPY has followed. This pair is also known as deposit killer ( in one hour time, it can changes on 200 pips up and down). At the end, my account holds $0.31. Low kick, is it the end again?
Rule 7 – the market is much stronger than you think
Again, as you might remember post on Intomillion Version 1.0 on 21 cent story or Christmas wonder, GBP/USD saved my dollar. Right before Prelim GDP q/q (forecast 0,1%) I have bought the pair and bingo! Actual 0,3%, flawless 100 pips. More deals came up and got me on $2 back.
Last week has a nice start. On April 29th I have bought EUR/USD on 1.3079 and closed with a profit of 100 pips. That was a classic signal, thank God it worked out. I put a stake on closing monthly candle. Result $5 equity on Intomillion trading account. I also posted that signal on my Facebook page on weekend before Monday.
There is a European holiday on the 1st of May, plus FOMC Statement. However, it couldn't stop me from getting in the market. For what?
I skipped 2nd of May on ECB Press Conference. Wasn't trading – earned nothing, lost nothing neither.
On the 3rd of May, the real swing situation has begun. As you might already guess, I got trapped here. EUR/USD got swinging on 100 pips 4 times a day – nerve breaking. Forget the tech analysis as well as macro stats. These are only good to collect stops and beak some traders nerves. See the chart.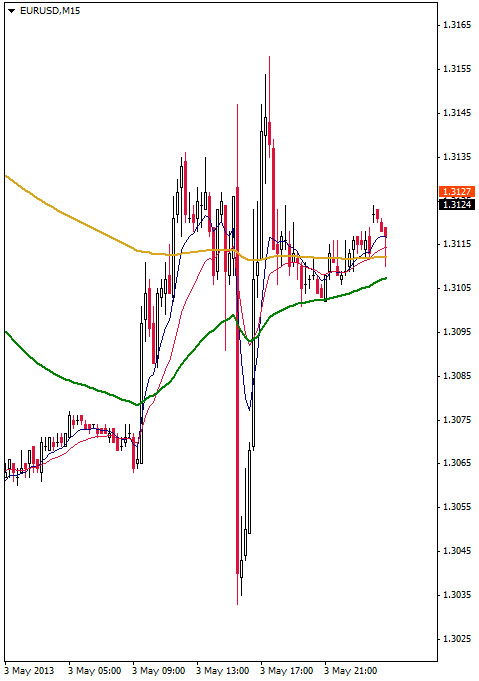 As a result, $1,05. However, generally, the project gets a plus. And I remember getting up from much worse case. Keep in mind one simple thing – don't wait for stop deposit and do not give away your money to the market. $3 is better the $2, $2 is better than $1. Every single dollar multiples your chances on winning the big deal.
Rule 2 – Trade what you see, not what you think
Talking of potential, EUR is not that bad. The dollar is being printed also (do not forget about this), but ECB rate reduces till 0,5% will come only for good. So, ladies and gentlemen, great time of Forex swings and roller coasters are coming up. The market is very strange lately with a high volatility – maybe it is because of more money around?