It's been a week since I've started a new dollar, new Intomillion. I couldn't resist to pass this fact by. What happened to the previous dollar? It would be a crime to hide the story, but all things in their time.
I still felling sorry, but I'm not going to cry like Mr. Krabs this time. First of all, the dollar had a very short life – only one and a half month. Secondly, there were too little money on the account to have a proper trade lately. Dollar's life has been hanging on a wire. What do 20-30 pips mean on a volatile leverage market? It is a lottery, which as you might already get, I've lost. Actually, you can say the ticket was not lucky, or all most so.
Maybe is it not worth it to tell about all latest trades I've made. It's better to give all attention to my "last shot" which has gone out of mark. I was waiting and counting pips for the saving my last dollar – and here was it!. The trading idea that could bring meat at least 100 pips or more. Now take a look at a drawing below. No comments needed.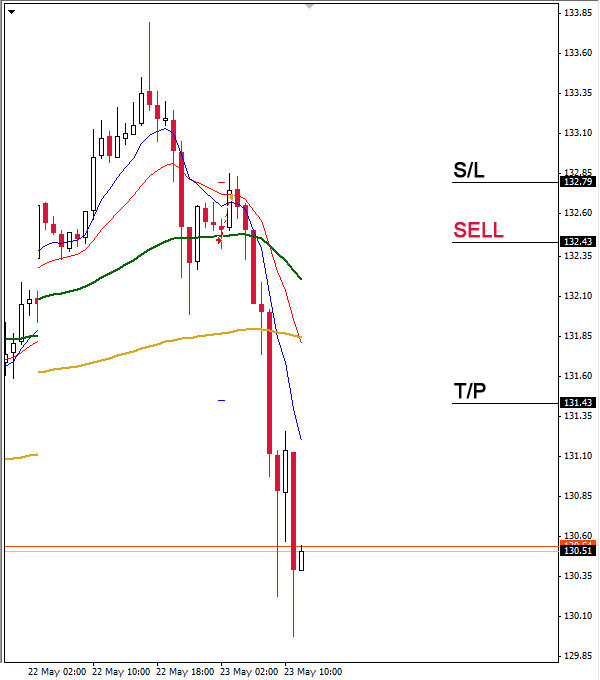 For whose of you, who are interested here is the link to Intomillion Detailed Statement
Investors calm down! Intomillion Fund was not touched by these dramatic events, and fund still has a positive performance.
Concerning Intomillion, on the morning of 23rd of May, as I saw the whole trading market picture, I've decided as soon as possible open a new account. Without making an official announcement I chose to take a revenge on EUR/JPY. This time I was right – BUY -right into mark. Plus 71 c, positive result and $1.71.
To sum up, I've made a conclusion. It is easy to make forecasts, but it is a real art to follow them. I suppose, I am still stepping away from the perfection. At the end, one is strong who fall and rise again.
Intomillion Version 2.0 to be continued…